Mike Nuckolls
Licensed Clinical Mental Health Counselor
After spending several years doing volunteer work helping people, I decided to employ my passion for encouraging and empowering others by becoming a Licensed Clinical Mental Health Counselor. I have counseled children, youth, and adults in institutional, educational, medical, and private practice settings.
My counseling practice is focused on helping you or your child make positive, productive, and long-lasting changes. My general theory of change is through altering thinking patterns, either directly through helping you discover new ways of thinking or indirectly through behavior changes that can lead to different perspectives. I believe that it is our thinking that influences how we feel and behave. I use cognitive-behavioral and existential therapies to help you establish these new thought patterns and construct a life with purpose.
In addition to counseling, I also serve as a practitioner instructor in the online Master of Counseling program at Wake Forest University. Prior to counseling, I spent my early career in a small publishing company and have also served as a minister and church administrator.
I am a native of Winston-Salem and spend my free time enjoying traveling with my wife and son, playing with my son, and working on the house, in the yard, or on a car.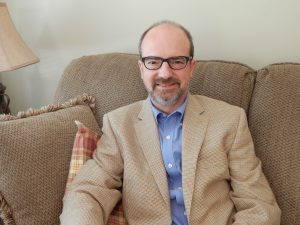 Licenses/Certifications
Licensed Clinical Mental Health Counselor (NC 8354)*
National Certified Counselor (#227039)
DEGREES
Master of Counseling, Wake Forest University
Master of Divinity, Campbell University
Bachelor of Arts in Economics, UNC-Chapel Hill
*NOTE: Read about the recent license name change HERE.